Why buy from an Australian Labradoodle Association Breeder
The ALA breeders list is comprised of breeders who have:
Joined the ALA
Signed the ALA's Code of Ethics and Rules and Regulations
Registered a breeding prefix with the ALA
Agree to health test all breeding dogs and record all litters born
What does this mean if you are looking for a reputable breeder:
The Australian Labradoodle Association is the original labradoodle association and was formed in 1998 to protect the Australian Labradoodle and promote their sensitive, intuitive, sociable, and sound temperaments.
The Australian Labradoodle is a mature crossbreed bred with a purpose and to a consistent type.
ALA-accredited breeders have been selectively breeding and monitoring the Australian labradoodle for decades to produce perfect family companions with a very predictable temperament
The ALA has a Code of Ethics and Rules and Regulations that all our accredited breeders must comply with to ensure they are breeding responsibly and ethically, with the welfare and care of their dogs as a priority.
The ALA has a complaints process that you may initiate if you are concerned that your breeder is not complying with the Code of Ethics or Rules and Regulations.
Our breeders must offer a health guarantee and assist with the rehoming of any dogs they have bred whenever requested to do so.
Our breeders provide purchasers with information on diet, training, grooming and veterinary care required.
All puppies from an ALA breeder are permanently identified via microchip
The health and vigour of the Australian Labradoodle are paramount to our breeders. Our breeders are mandated to test hips, elbows and DNA for disease profiling of all breeding dogs.
The ALA will not register dogs for breeding that do not meet the minimum criteria for hip and elbow cut off scores.
All breeding dogs must be registered with the Australian Labradoodle Association. In addition, evidence of health testing must be submitted to the ALA with an application to upgrade a dog to breeding status.
AL breeders must notify the Association of all litters bred and register all puppies with the ALA
All Australian Labradoodles bred by our accredited breeders will come to you with an authorised registration certificate from the Australian Labradoodle Association. So you will be able to be sure about the generation, pedigree and grading of your Labradoodles.
Our breeders must demonstrate an ongoing commitment to education to ensure their practices and knowledge are contemporary and evidence-based.  In addition, they must maintain close connections with the ethos of the Australian Labradoodle Association via attendance at a minimum number of online education sessions, members meetings and conferences with guest speakers and skills workshops to renew registration with the Association annually.
All ALA breeders must comply with all state and local legislation relating to animal welfare and breeding codes of practice.
ALA Logo's Explained
A Provisional Breeder is a breeder new to the Australian Labradoodle Association and is required to participate in a 12 month mentoring program. This program supports breeders helping to ensure that they successfully meet the necessary criteria set by the Australian Labradoodle Association to be eligible for membership with our association as an Accredited Breeder.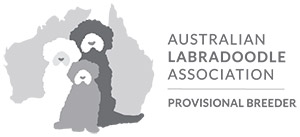 An Accredited Breeder has successfully completed 12 months as a Provisional breeder showing all the necessary competencies required by the Australian Labradoodle Association. Although the official mentoring program concludes with accreditation, breeders continue to support each other through our association as they strive to meet common goals of protecting and promoting the breed of the Australian Labradoodle.